Survive the holidays on a college budget.
The holidays are coming up. And you've got gifts to buy, food to make, travel expenses, and little money. Instead of cheaping out and rewrapping the same puzzle you gave your mom last year, even though she didn't put it together yet, here are some tips to help survive the holidays and still have some cash left over for New Years.
Set a budget. The first step is putting a lid on overspending. Figure out how much you can afford to spend. Once you have a number, start by figuring out how much it's going to cost to get home. Buying gifts and not being home to give them to family kind of misses the point. Then take what's left and use that for gifts.
Coupon and discount codes. If you're shopping online, and let's face it, you are, there are plenty of apps to help you find the best prices, discounts, and coupons. Use them and use them often. There are some, like Rakuten, that will send you a rebate depending on where you shop.
There is also a good chance your credit union is partnered with a few local and national businesses to offer discounts; ask next time you stop by or search their site.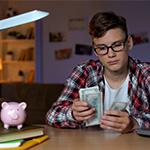 Also, don't forget to look out for student discounts. Even if you don't think the place offers one, it never hurts to ask.
Ship it home. Even if your school is close by, ship the gifts home. If you're worried about family opening the boxes, ship them to a friend. Remember those friends you need to see when you're home so you don't have to just watch Sports Center with your dad for eight days? The perfect excuse to get out for a while!
That and you save a lot of space. If you're flying home, this is clutch. Even driving, it makes your car lighter, saving fuel. Why pay to transport something when you already paid shipping or shipping was free?
D.I.Y. If you know someone (maybe your mother) would appreciate something homemade, do it. Maybe you collect some old family photos together and put them in a frame from the thrift store. It could be one of those coupon books they can cash in for chores or other things. Make your friends a CD of songs that mean something to both of you. Write your dad a list of your best dad jokes. Take your younger sibling out for a night together.
Manage expectations—yours and theirs. Some people just don't get it. You have a lot of other stuff going on that costs a lot of money. You can't blow out the budget and pay tuition at the same time. Anyone that doesn't understand and respect that, it's their loss. Be ready for that.
And make sure people know you need to pay bills that are difficult to reduce. Maybe you got them something really nice last year, but things can change, so be honest. No shame in making yourself a priority.
Cash. Don't spend money you don't have. Trying to put all your holiday expenses on a credit card thinking you'll catch up is just lying. Don't steal from your future to try to impress anyone. Obviously, it's easier to use a debit card, but make sure you know how much is there and stick to your budget.
In the end, only spend what you have to spend; don't go crazy. And even if this advice is a little late for you this year, the basics can be applied to a lot: birthdays, weddings, anniversaries.